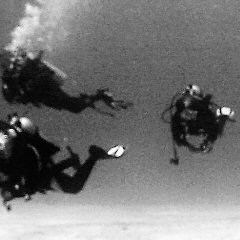 Amazon Adventure 3D / Aventura Amazônica 3D (Lançamento 18 de Abril de 2017)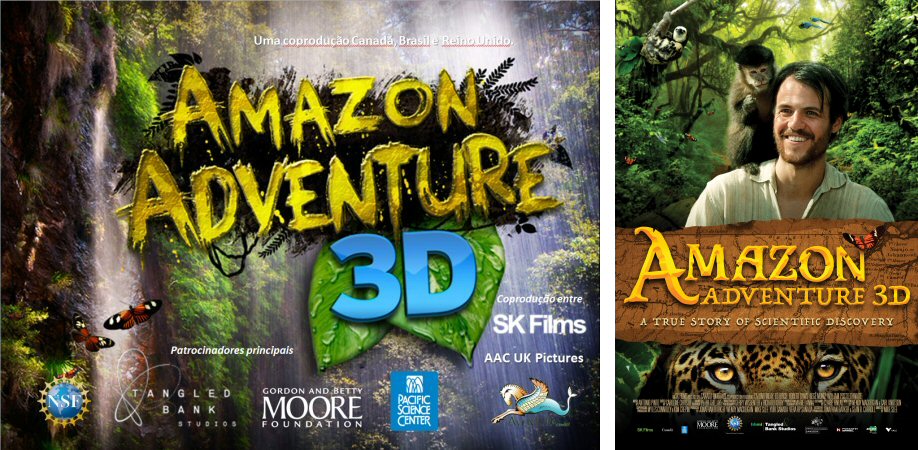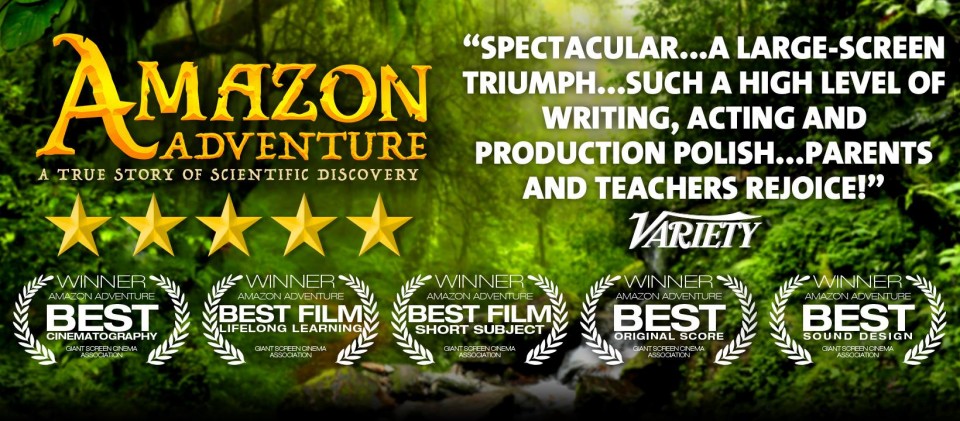 NATUREZA E HISTÓRIA PARA CINEMA IMAX. Esta é a maior coprodução internacional sobre nossa natureza. O filme mostra os anos de aventuras na Amazônia do carismático Henry Walter Bates, um dos mais importantes cientistas da biologia evolucionista, que viajava por toda região com seu violão e um macaco-aranha-de-cara-vermelha. Bates chegou à Amazônia em 1848 e viajou pela região durante 11 anos, aprendeu diversas línguas locais, viveu centenas de aventuras e se encantou pela beleza e diversidade da região. Ele registrou 14.000 espécies, sendo 8.000 desconhecidas. Foi nessa viagem que Bates descobriu o fenômeno natural do mimetismo, em que uma espécie evolui e passa a imitar outras para aumentar suas chances de sobrevivência. Tal fenômeno foi descrito por Darwin como "a bela prova" da seleção natural. Uma história bem brasileira, desconhecida pelo mundo, revelada nas telas gigantes do Cinema Imax. Outros coprodutores: SK Films do Canadá e AAC UK Pictures do Reino Unido.
NATURE AND HISTORY FOR IMAX THEATERS. This is the biggest international coproduction about Brazilian nature. The film shows the years of adventures in the Amazon of the charismatic Henry Walter Bates, one of the most important scientists of evolucionary biology, who travelled for all region with his guitar and a red face spider-monkey. Bates arrive at Amazon in 1848 adn travelled for 11 years, learned many local languages, experimented hundreds of adventures and became enchanted by the beauty and the diversity of the region. He registred 14.000 species, 8.000 unknown. In this voyage he discovered the natural phenomenon mimicry, in wich one specie evolve and begin to imitate others to increase their chance of survival. Such phenomenon was described by Darwin as the "beautiful proof" of natural selection. A truly Brazilian History, unknown to the World, revealed in the giant screens of Imax theaters. Coproducers: SK Films from Canada and AAC UK Pictures from United Kindom.
Trailer Legendado:

Kit para Imprensa:
O Mistério do Azul Profundo / The Mistery of Deep Blue Sea (Em Desenvolvimento)

TERROR/THRILLER DE AÇÃO. O primeiro longa metragem de ficção brasileiro sobre mergulho. Um grupo de mergulhadores encontra um naufrágio antigo, e dentro dele, um vulto fantasmagórico. Pesquisando a origem do naufrágio, eles descobrem que o navio fora abandonado em alto-mar décadas atrás, mas nenhuma vida havia sido perdida. Quem era o fantasma que assombrava os destroços no fundo do mar? Perseguidos pelo mistério, os mergulhadores experimentam sensações assustadoras que os obrigam a desvendar o segredo submerso. No final, uma surpreendente confissão, num roteiro original de terror psicológico. Além da qualidade da trama, as belas cenas submarinas, gravadas no Brasil e no Exterior, farão desta produção um marco no cinema brasileiro de aventura e mistério.
TERROR/ACTION THRILLER. A group of scuba divers find an old shipwreck, and within it, a ghostly figure. Researching the origin of the wreck, they discover the ship's story, and to their surprise, she was abandoned at sea, and no souls were lost. So who was the ghost that haunteds the wreckage on the seabed? Pursued by this secrecy, the divers experience frightening sensations that force them to seek the key to the underwater secret. In the end, a startling confession in this amazing script, worthy of classic productions of psychological terror. Besides the quality of the plot, the beautiful underwater scenes, recorded in Brazil and Abroad, will make this production a milestone in Brazilian cinema of adventure and mystery.
Teaser conceito. O filme terá cenas e ritmo semelhantes a estas/
Conceptual teaser. The movie will have scenas and rithim similar to these:

Expedição Barco Junco Chinês / Chinese Junk Ship Expedition (Em Desenvolvimento)
DOCUMENTÁRIO LONGA METRAGEM. Todo mundo sabe que a China é uma nação poderosa. Mas nem todos sabem que a China já era um poder mundial há séculos. Muitas grandes invenções vieram da China, como a bússola, papel, pólvora, seda, pipa, álcool, espaguete, tudo da China, assim como a porcelana e muitos avanços em astronomia, física, matemática, artes, metalurgia, engenharia, química, sismologia, medicina, navegação e muito mais. Um documentário contará a história de como a China sempre foi uma grande nação, durante séculos. E será uma Grande Aventura. O livro Histórias e Lendas do Descobrimento(Ediouro), Vera & Yuri Sanada, de 1999 relata quem pode ter estado no Brasil antes do descobridor Cabral. Fenícios, Gregos, Vikings, e Chineses. Em 2002 o comandante de submarino britânico Gavin Menzies lançou o livro 1421 – O ano que os Chineses descobriram o Mundo, que se tornou um best seller mundial, narrando as explorações do almirante Chinês Zheng He . Em 2003 Vera & Yuri Sanada começaram a contatar a Câmara do Comércio e Industria Brasil China, em busca de um parceiro para realizar um projeto ousado. Navegar uma réplica de um veleiro junco Chinês, do ano 1400 d.C, desde a China até o Brasil. Agora este projeto, a Expedição Tian Fei, está sendo desenvolvido na China e no Brasil.
FEATURE LENGTH DOCUMENTARY. Everybody knows that China is a powerful nation. But not everyone knows that China was already a world power for centuries. Many great inventions came from China, such as the compass, paper, gunpowder, silk, kite, alcohol, spaghetti, all from China, like the porcelain, and many advances in astronomy, physics, mathematics, arts, metallurgy, engineering, chemistry, seismology, medicine, navigation, and more. One documentary will tell the story of how China was always a great nation, for centuries. And it will be a Great Adventure. In the book Stories and Legends of Discovery (Ediouro 1999), Vera & Yuri Sanada describes who may have come to Brazil before the official discoverer Cabral: Phoenicians, Greeks, Vikings, and the Chinese. In 2002 the British submarine commander Gavin Menzies released the book 1421 – The year that the Chinese discovered the World, which became a bestseller worldwide, chronicling the exploits of the Chinese Admiral Zheng He. In 2003 Vera & Yuri Sanada began the contacts with the Chamber of Commerce and Industry Brazil China in search of a partner to make a bold project. Navigate a replica of a Chinese sailing junk, from the year 1400 AD, from China to Brazil. Now the project, the Tian Fei Expedition, is being developed in China and in Brazil.
Teaser de apresentação do projeto – não relacionado ao estilo do filme que será produzido/
Project presentation teaser – not related to the style of the movie that will be produced:
Português:
English:
BRASIL SÉCULO XXI/ BRAZIL XXI CENTURY (Em Desenvolvimento)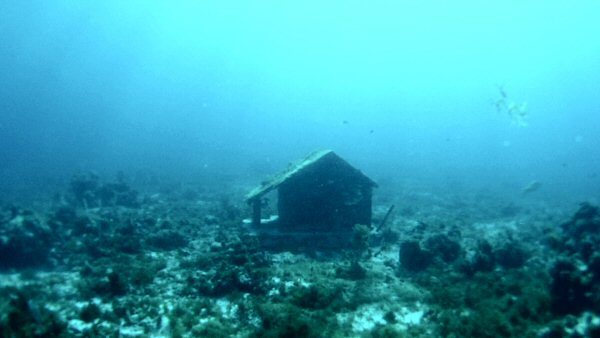 LONGA-METRAGEM DE TERROR/ AÇÃO/ DRAMA/ COMÉDIA. Três episódios interconectados, A Bruxa da Água, Justiça Privatizada e O Dono do Mundo, que mostram facetas pouco agradáveis do Brasil atual.
FEATURE FILM OF TERROR/ACTION/DRAMA/ COMEDY. Three interconected episodes, The Water Witch, Private Justice and The of the World, shows not so pleasant faces of modern Brazil.
 Expedição Phoenicia / Phoenicia Expedition (2008 – 2014)
DOCUMENTÁRIO LONGA METRAGEM. Pela primeira vez em milhares de anos, um navio a vela fenício voltou a navegar, para comprovar que uma lenda contada no ano 450 a.C. pelo grego Heródoto pode ser verdadeira. Segundo essa lenda, o Faraó Egípcio Necho II contratou os Fenícios, em 600 a.C., para saber se a África era de fato cercada de água por todos os lados. Este projeto internacional deu a volta na África, com apoio do Museu Britânico, Universidade de Oxford, Royal Geographical Society, entre outras entidades. O documentário oficial é do diretor brasileiro, Yuri Sanada. 
FEATURE LENGTH DOCUMENTARY. For the first time in thousands of years, a Phoenician sailing ship sails again, to prove that a legend told in the year 450BC by the Greek historian Herodotus may be true. According to this legend, the Egyptian Pharaoh Necho II hired the Phoenicians in 600BC, to discover if Africa was indeed surrounded by water on all sides, except where it joins with the Asia. This international project circumnavigated Africa with support from the British Museum, University of Oxford, Royal Geographical Society, among others. This is the official documentary, by Brazilian director Yuri Sanada.
Trailer:
Teaser:
Mundo Nikkei / Nikkei World (2006 a 2008)
DOCUMENTÁRIO LONGA METRAGEM. Filme lançado em 2008 em cinemas no Brasil e no Japão por ocasião do Centenário da Imigração Japonesa no Brasil. O documentário apresenta o Japão moderno e seus contrastes com a tradição milenar, além das raízes históricas do encontro das duas grandes nações. O filme mostra as influências da cultura brasileira na sociedade japonesa ao longo das décadas e como os brasileiros estão contribuindo para a sociedade japonesa atual. Além das curiosidades do Japão antigo e moderno, o documentário mostra como é a vida dos brasileiros nas fábricas, restaurantes, lojas e nos momentos de lazer. Trilha sonora interpretada por instrumentos japoneses e brasileiros, e a base é o Taikô, tambores japoneses. Patrocínio: Banco Real – Abn Amro Bank.
FEATURE LENGTH DOCUMENTARY. Documentary released in theaters in 2008 in Brazil and Japan, on the occasion of the centennial of Japanese immigration to Brazil. This film features modern Japan and its contrasts with the ancient tradition, and beyond, the historical roots of the meeting of these two great nations. The film shows the influences of Brazilian culture in Japanese society over the decades and how Brazilians are contributing to Japanese society today. Besides the curiosities of ancient Japan and modern, the documentary shows the lives of Brazilians in factories, restaurants, shops and in their leisure time. Soundtrack composed using Japanese and Brazilian traditional instruments, using mainly taiko, Japanese drums.
Trailer:
Teaser:
 Brasil Via Atlântico /Brazil Via Atlantic (1999 a 2001)
DOCUMENTÁRIO LONGA METRAGEM. Documentário longa-metragem sobre a Viagem Comemorativa e Regata do Aniversário de 500 anos do Descobrimento do Brasil pelos Portugueses. Navegando a bordo de diversas embarcações como a réplica da Caravela Boa Esperança, o Navio Escola Sagres, desde Lisboa até o Rio de Janeiro, passando pela Ilha da Madeira, Ilhas Canárias, Cabo Verde e Salvador. Apresentado por Vera Sanada. Patrocínio: Volkswagen, Speed Stick-Kolynos, Varig, Starmedia.
FEATURE LENGTH DOCUMENTARY. Documentary film about the Journey and Regatta celebrating the 500 years anniversary of the discovery of Brazil by the Portuguese. Sailing aboard several boats, such as a replica of a 1500AD caravel Boa Esperança and the training ship Sagres, from Lisbon to Rio de Janeiro, past the island of Madeira, Canary Islands, Cape Verde and Salvador.